Step 1 to Therapy- You're here, you've accomplished step one! When embarking on your healing journey, step one can incorporate many things. Ultimately, it's starting to think about the healing process and asking the important questions. What am I healing from? What do I think healing will look like? How exactly do I heal and grow? Where do I go from here?
I've created this page to break this whole therapy / counseling thing down into simple steps. After recognizing you want something more for yourself than what you have right now, you can then decide if you're ready to take the next step.
Step 2 – Research
You've decided you want something to change. In that decision, some questions have come up in your desire to figure out how exactly to make that change. What sort of changes do you want to make? Are they internal? External? Do you feel capable of making those changes on your own? Or do you think you may need the help of somebody else? Now it's time to find the answers.
If you want to try making change on your own first, a quick Google search can pull up infinite resources to help you find self-help books, habit-changing strategies, mindfulness techniques, and more to guide you on your way.
However, if you've found your way to this page, you're likely seeking outside help. This can be daunting if you're unsure what you're looking for. In the therapy world, you'll often hear the phrase "good fit". This means you want to find somebody who meshes well with your unique needs, personality, and lifestyle. Studies show that having a good relationship between you and your therapist predicts better outcomes in therapy than any particular type of treatment (Ardito and Rabellino, 2011; Norcross and Lambert, 2018; Castonguay and Hill, 2017; Elliot, Bohart, Watson, & Murphy, 2018)
This is where reading into a therapist's website, profile, social media, etc. are helpful. For me, you can read about my background, specialities, treatment style, fees, and more on this website. If working with me sparks your interest, the next step is to set up a phone consultation.
Step 3- The Initial Phone Consultation
99% of therapists will offer a free phone consultation so you can talk for 15-20 minutes about what working with them will feel and look like. Ideally, you'll have already read about their background, specialities, treatment style, and fees. You may have even emailed / messaged them to inquire about something you couldn't find in their information online. This next step will be the final step toward officially committing to a relationship without actually pulling the trigger.
The phone consultation is designed to let you actually interact with me. Although you can learn a lot about somebody via profiles and websites, talking with me will give you a much better impression. In a typical phone consultation, you'll discuss the basics about what you're wanting to work on, your past experience with therapy (if any), and scheduling needs. By the end of the call, you should have all the information you need (via prior research and now an interactive feel) to decide if you want to move forward and schedule your first appointment.
Step 4- Your First Appointment
When you schedule your first appointment with me, I'll send you some forms for you to sign and fill out. These include informed consent, practice policies, payment authorizations, confidentiality, and an intake questionnaire. These are not meant to intimidate or overwhelm you. They are designed to help you understand the fine details of how therapy works and protect both of us as we embark on this journey together. If you come across something you don't understand or have questions about, we can go over those when you arrive.
Your first appointment at Lakeside Counseling is called the 'initial consultation'. Although we already completed an initial phone consultation, your first appointment will be our first official session together. My goal is to get a good capture of you and your life story- I want to learn about how you got to where you are today. Most importantly though, we will discuss your goals for therapy. We use these goals to monitor your progress and determine when you are 'done' so to speak.
The initial appointment can take anywhere from 60-90 minutes depending on what you bring to the table. After that, half (30 min) or full (50 min) sessions are ideally scheduled once a week to facilitate learning, keep up with goal objectives, monitor progress, and address any newfound issues.
Step 5- Growth and Healing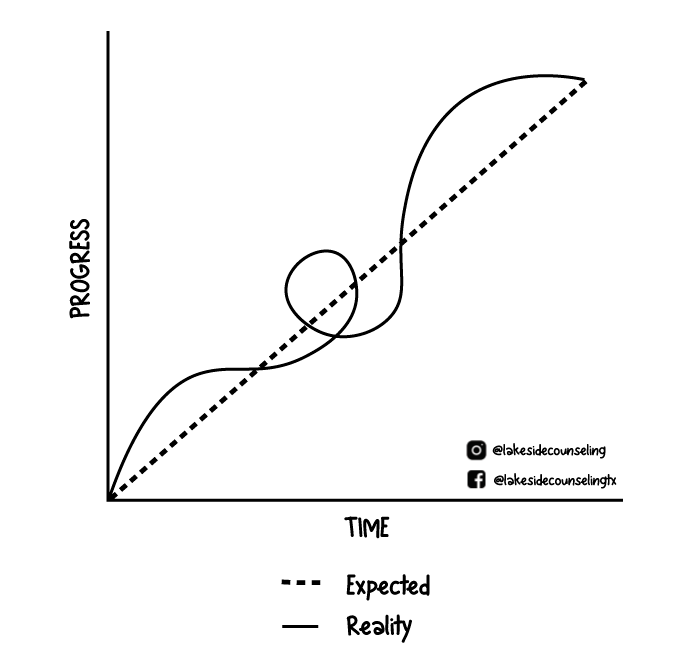 Repeat after me- growth and healing are not linear. This is something important for anyone to remind themselves when they are working on bettering their life or working through a tough situation. While big strides are great and definitely possible, so are setbacks and relapses. Both gains and losses are common in the growth process. When we expect things to go a certain way or progress in a certain timeframe, we often set ourselves up for failure and disappointment. What shows real progress over time is how you handle the lower points when they do occur.
Although therapy doesn't always have to be a long-term thing, growth and healing happen over time. It takes time to rewire brain pathways, stop destructive habits, build healthier behaviors, and practice the coping skills necessary to combat stress-inducing situations. Patience and self-compassion are invaluable in the healing process. We need to understand change doesn't happen overnight, and it's much more complicated than x + y = z.
Notice the little things, and celebrate the small victories. Praising and rewarding those steps forward, however small, will aid in the rewiring process and encourage you to keep moving when times get tough. When you look back, look at how far you've come, and take moments to relish in gratitude and pride for the fruits of your labor.
Step 6- Termination
Counseling is not meant to last forever. Although some people may engage in counseling for a longer period of time (even years), the ultimate goal is developing the skills to live an autonomous life. Discussing timelines is an important part of the counseling process, so you can have an idea of how long we will work together. However, this is often an ongoing discussion due to the fluctuating nature of treatment progress and goals.
When you and I decide to end the therapeutic relationship, ideally we do this gradually over multiple sessions. Ending treatment gradually helps to highlight the important skills you've learned, remember how far you've come, and go over gains you've made in treatment. You can also space these ending sessions further apart to practice going longer periods of time without speaking with me.
Ultimately, terminating therapy does not mean you can never see me again. If new circumstances arise, symptoms return, or you need a 'touch up' session to go over a specific issue, that is normal and totally okay. Termination simply means you have the skills to live the normal, healthy, happy life you deserve. You're finally ready to spread your wings and fly.